How to stay active with your kids once the snow flies!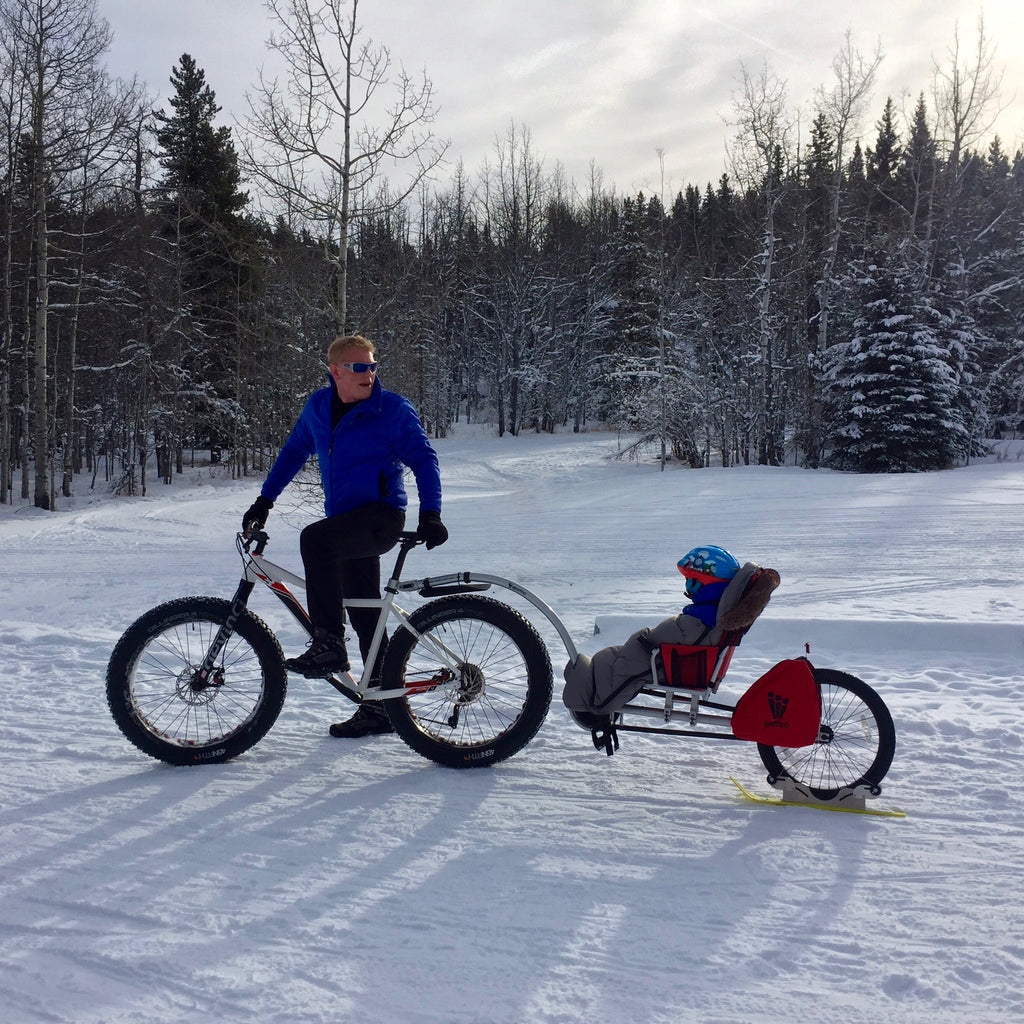 As a parent, you face many challenges everyday, but once the snow starts to fly, life can become even more complicated!  Most parents know how to protect their child from the summer time heat and sunshine, but how do you do that during the long and cold winter months ahead of us?  Some people think that hibernating bears have the right idea but others embrace the change in season. Winter is packed with fun activities and you can continue to do the things you love to do, as long as you are prepared and have the right equipment.
Get started:
Stroller: If you haven't already chosen your stroller, then do your research and think about what features you'd like. If you plan on staying active all year round, then I suggest an all terrain stroller with single wheels. I also suggest buying the rain cover for your stroller because it is great for keeping the rain and wind at bay.
Skis for your Wheels: You can now buy skis that attach to your existing wheels in seconds. Designed and manufactured by a Canadian company they are extremely versatile, strong and easy to use.

 

Order yours today from

www.polarskis.com

.
Clothing: Invest in some quality warm clothing because nothing makes you more miserable than being cold!
Weather: Plan your outings, check the weather forecast and head out during the warmest time of day.

 

Also, consider the wind chill factor.
Footwear: Have a good pair of snow boots and wear grips like Yaktrax Run for improved traction when pushing your stroller.
Winter can last a long time, so it is vital for our mental and physical wellbeing that we stay active and find fun things to do with our kids and fur babies outside.
Get Ready:
1. Bundle Up! Use multiple loose layers. I usually use three layers depending on the temperature:
A good base layer - not cotton!

A polar fleece sweater, pants and warm socks.

A down snowsuit, hat, gloves and snow boots.
 Polar fleece is a great material because it's light weight, warm and wicks away moisture. Down is great since it's super warm without being bulky and restrictive for your child. If your child has allergies to down, then you can buy Hydrophobic down.
When using your stroller, invest in a Polar Bundle; there are lots of good quality ones on the market now. They are awesome so make sure you buy one that is windproof and water-resistant and if possible, polar fleece lined.  They're perfect for naptime with a hoody jacket! Check your child frequently to ensure a wandering hand isn't exposed!
2. Protect the exposed skin and eyes!
Apply a suitable face cream/barrier cream 30 minutes prior to heading out.

Apply a natural lip balm to prevent chapping.

Sunglasses for everyone!

 

The glare of the sun can damage your eyes.

Use your rain cover if there is a wind chill or it is extremely cold.
3. Kleenex…lots of Kleenex for mopping up a runny nose and eyes for both you and your child!
 4. Watch for signs of exposure:
Be aware of the time and how long you have been outside.

Be on the lookout for signs of frostbite and hypothermia.

Be aware of the effect wind chill has on the temperature.
5.
Hydration:
Carry a drink to maintain hydration, especially in places of high altitude.

Look after yourself!

 

Do not forget to prepare yourself for the cold too. You are more likely to have fun and stay outside longer if you are warm and comfortable.

Always visit the washroom before heading out, especially with a potty-trained toddler!
 Now we are all ready to head outside and have some fun!
There are endless benefits to being active outdoors and it gives you the 'feel good factor' back. One of the best treatments for Seasonal Affective Disorder (SAD) is to maintain daily outdoor exercise. So let's go and keep smiling! ☺
 Get Going:
My favorite family outdoor activities:
1. Clearing the snow – Off the deck in the back yard and making a snow slide.
2. Winter walks – Naptime for baby means outdoor exercise time for mom and toddler! We take the stroller, click on our Polar Stroller skis and explore the snow-covered pathways, dog parks and playgrounds. There is a special peacefulness about winter walks and the unique beauty it brings.
3. Family Snowshoeing – A fun family day out awaits us on the many beautiful trails we have in local parks. Mom & Dad wear snowshoes, which you can pick up from places like Costco and SportChek. The babes go in the chariot or stroller with Polar Stroller skis on and away we go!
4. Tobogganing/sledding – On a GT racer while wearing appropriate helmet. Baby is walked in his stroller, with Polar Stroller skis on.
5. Fat biking with a Weehoo trailer and X-country skiing with a chariot - Yes, that sound like a lot of gear, but what a fabulous way to get an afternoon of exercise and outdoor fun for the whole family.